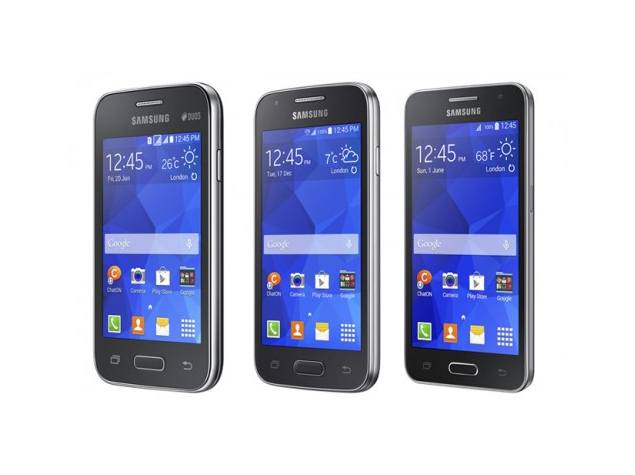 Samsung's newly anounced budget Android handsets Galaxy Ace 4 , Core 2 and Galaxy Young 2 are
ACE4
officially listed to be priced at 219 Euros for the Galaxy Ace 4 ,179 euros for the Galaxy Core 2 and
99 Euros for the Galaxy Young 2 .The handsets were launched last monday with some major improvements over its predecessors including the addition of Android 4.4 out of the box and faster processors .
The Ace 4 has a 4" display with 480x800 resolution , a dual core 1Ghz processor , 512MB of RAM . 4GB internal memory with a MicroSD expansion slot and a 5MP rear camera with LED flash alomg with a VGA front camera , the phone has a 1500mAh battery onboard
ACE4
Like the Ace 4 , the Core 2 also has a 480x800 resolution display , but the display is larger at 4.5" . The phone has a faster Quadcore 1.2Ghz processor and 768MB of RAM , 4GB onboard storage with MicroSD card slot . The camera on the phone is a 5MP unit with a single flash and it has a VGA front camera for video calls . the battery capacity is increased to 2000mAh's
Core2
Last but not least , the Galaxy Young 2 is said to be Samsung's answer to the budget realm , the phone comes with a smallish 3.5" display with 320x480 resolution . The processor is listed to be a 1Ghz Single core and it has 512MB of RAM and 4GB of storage with a MicroSD card slot .
The only camera on the device is rated at 3.15MP and it has no Flash . The phone's battery is rated at 1300mAh's
All versions come with Dual-sim capacity , and considering their price , the phones might be suitable for prople who just require a device for
casual call-text only use .
Core 2
Young2
Written by Rakitha for MasHD
Source -
GSMArena
aaaah my eyes....Young 2