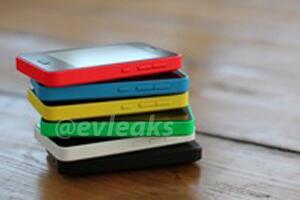 Nokia will be announcing a new phone tomorrow and the Conversations blog posted a teaser that shows nothing but a single rounded button. Popular leak source @evleaks may have just allowed us to take a better look at tomorrow's new device (as always, take it with a pinch of salt).
the stack of phones look identical to the pictures leaked a few months ago
It's called Nokia Asha 501 and it is a full-touch device. Interestingly, there's only one physical button under the screen (presumably the one from the teaser image), while current touch Ashas have two – the green and red receiver keys.
There's no hardware "home" button since the UI uses the touchscreen for the extra controls needed. Now, it's entirely possible that the receiver keys are capacitive, but this could also mean a redesign in the S40 touch interface.
Also, 501 is the highest model number in the Asha line until now, so this could be its flagship. Tune back in tomorrow for official details on Nokia's new featurephone.