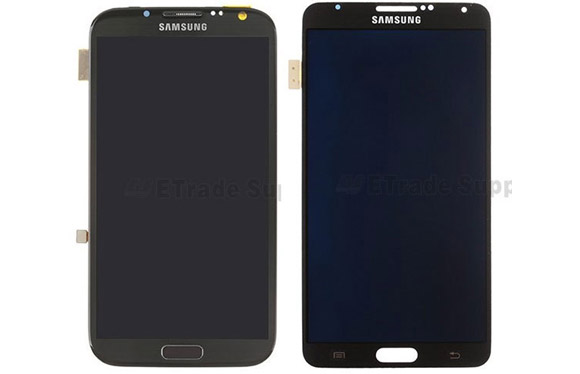 The latest leaked images of the Samsung Galaxy Note 3 show off what is allegedly the front panel of the devices. While no measurements were provided alongside the images, according to previous leaks the device is set to feature a 5.7-inch diagonal - up from the 5.5" on the Note II.
After many different values for the screen diagonal of the Note III, the rumor mill seems to have settled on 5.7". That would make for another 0.2" jump, after the original Note had a 5.3" screen, and its sequel had a 5.5" display.
Note that the image is a composite of two separate shots that have been scaled to match the alleged 5.7" diagonal of the Note III.
More interesting is that the bezels are thinner (they measure just 2.2mm) and the whole panel is barely bigger. Depending on how the sides of the phone are made, the Note III can be as little as 1mm taller and wider than the Note II. Not seen in this photo, but the new panel is reportedly thinner too.
Also, the design has changed - the Note III corners are not as rounded (following the design tweak from Galaxy S III to Galaxy S4).
September 4 is fast approaching and we'll be there when Samsung unveils the Galaxy Note III (and Galaxy Gear smartwatch). The expected specs are 5.7" 1080p screen, Snapdragon 800 or Exynos 5 Octa chipset (or both) and maybe, maybe 4K video recording from a 13MP camera.(
GSMArena
)